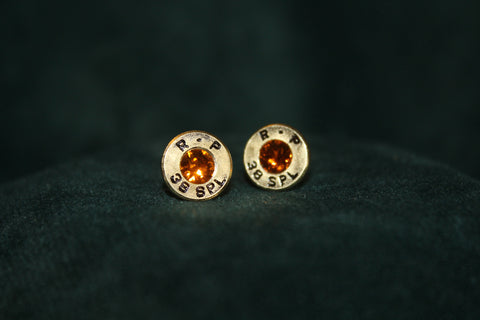 Shell Casing Post Earrings
I make these beautiful earrings from real, center fire cartridges that have been shot and made completely safe.
After the round is shot, I cut and remove the sides and the primer and polish the brass to a high gloss shine. I then affix genuine Swarovski crystals in the flash hole. Attached to hypoallergenic post and backs, these earrings are sure to hit the bulls eye.
These earrings come in several colors of crystals, including your birthstone. They also are available with the spent primers left in for a natural look. Either way you are sure to get lots of compliments on these unique earrings.
I make each pair of earrings using a matched set of bullet heads. Several calibers are available.
.380 auto or 9 mm luger (about 3/8" Diameter)
38 SPL. or 357 Mag. (about 7/16" Diameter)
45 Auto (about 15/32" Diameter)
44 Mag or 45 Colt (about 1/2" Diameter)
if you have a preference, please make a note when ordering. If your preference isn't listed, let me know and I can most likely accommodate your choice for no additional charge. 
Each pair of earrings are individually handcrafted by me and therefore you should expect slight variations. This insures that yours will be a unique, one of a kind, pair.
---
We Also Recommend
---